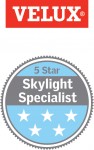 If you have a tubular skylight put in your home or business, you want a Certified VELUX skylight installer. Conrad Miller is a certified VELUX 5 Star skylight specialist.
Tubular Skylights by Conrad specializes in VELUX products. Conrad has achieved the company's highest standard of certification as an independent installer of its product. He has the ability and desire to assist you with all of your VELUX product needs.
VELUX certified installers are:
Carefully-screened, highly-skilled professionals. Only 10% of contractors are certified.
Required to complete extensive training.
Required to have a minimum of five years in the construction industry.
Licensed and insured.
Required to warranty their installation for 2 years.
In any personal or business transaction, we all want to deal with qualified, trustworthy people.  Simply put, we buy from people we like and trust.  Conrad Miller is a highly-qualified professional who stands behind his products and his service.  You can trust Conrad to do the right thing.  You can see the work he stands behind at several locations in the Upper Cumberland.  Click HERE to see a list of these businesses you can visit. You can see what a difference it can make in having Tubular Skylights by Conrad.
Tubular Skylights by Conrad offers a 20 year warranty. Call Conrad Miller, your certified VELUX skylight installer, at (931) 277-3707.