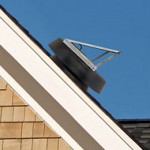 Conrad also sells and installs Natural Light® Solar Attic Fans. A solar attic fan is a simple and environmentally sensible solution that can protect your home and even save you money.
Powered completely by free solar energy, this sleek and efficient attic vent is compact, quiet, powerful and maintenance free!
How it works
A solar attic fan improves attic air circulation resulting in a healthy, energy efficient home. Solar attic fans pull hot air and moisture out of your attic extending the life of your roof.


In summer months, it keeps your attic cooler helping reduce the load on your HVAC system. In winter months, it prevents moisture build-up and ice damming. Natural Light Solar Attic Fans are one of the best in their class with the highest standards for quality and functionality.
Call Conrad today, (931) 277-3707 for a free estimate.
Solar attic fans also qualify for Federal Solar Tax Credits as defined in the Emergency Stabilization Act as a residential photovoltaic system.
Solar powered – operates for free during the day
Adjustable solar panel bracket to achieve optimal solar exposure
Low-profile unit blends seamlessly into roof line
Water tight, will not leak and is maintenance free
Fits any roof pitch and adapts to most roofing systems
Stainless steel screen keeps out debris, bugs, bird and rodents
Quick and easy installation – very few steps to complete
No structural changes, wiring or painting required